Hey there, Nicole here!

I just wanted to tell you, personally, that this course is going to change your life. I mean, of course I'm saying that—it's my course. 😉
But, you should learn from someone who understands what you're going through, and has faced the questions and challenges you're facing.
I understand how difficult the decision to change careers can be. The tech industry might make it more streamlined than most... but it's certainly no easier. After making the decision for myself in 2015, I started keeping a list of all the frustrations I faced while learning to code. I remember that my anxiety only increased when I talked to professional developers about my struggles, and they told me that my approach was disjointed at best.
Some recommended I keep on it, and others recommended I try something like a bootcamp. But I was determined to make self-education work for me.
Searching and applying for jobs was like feeling around in the pitch dark with my arms out, with hopes of—but also deathly afraid of—touching something. Would it be what I wanted it to be, or something scary?
I finally gave in. I conceded that the way I was doing things just wasn't going to fly, and it was stressing me the hell out. This happened after a few times of very real, very serious burnout.
Applying a solid career change plan to my journey was the single smartest thing I ever did in terms of the entire experience. And, I never would have done it if it weren't for the help of my developer friends who told me that I was doing it "wrong". Although I was defensive at first, you eventually just get to a point where you know things have to change. However, you might not know what exactly you should change to.
Now, I want to help YOU avoid the frustration and wasted energy that I faced before I finally got it right. Because I would never wish that on anyone. I legit wasn't sure I was going to make it at times.
So, if you're considering learning to code, you need this course. 30 Days to Web Development is exactly what I wish I had when I was teaching myself web development.
I can't wait to see your transformation from a confused newbie to a confident and productive web development student! And as soon as you sign up, you'll be getting a completely personalized video from me to welcome you on, and open myself up to your unique story.
Let's do this together, new dev friend! I believe in you!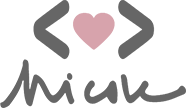 Nicole Archambault
30 Days to Web Development Creator